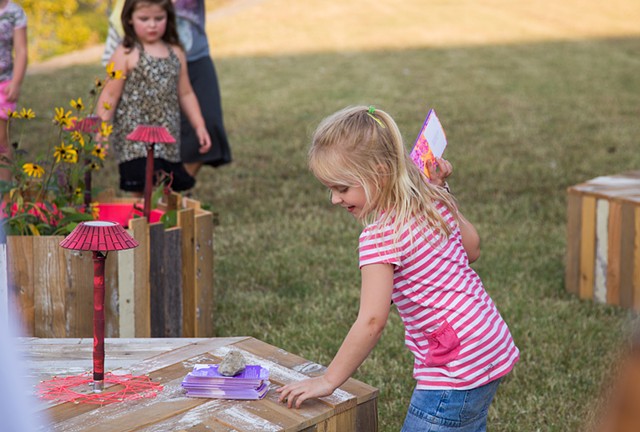 Field of Vision: A Garden for Others
Tri-fold print on Mohawk Fine 100% post-consumer paper, printed with soy-based fluorescent inks and 'invisible' UV-reactive ink
6 x 12 in.
2015
On the day of the opening people picked up tri-fold prints from the tops of the benches—which will be available in a waterproof lighted box throughout the duration of the project, as well as at all Adventure Kit host sites. The tri-fold prints are printed in three fluorescent soy-based inks that glow brightly when held under UV light—which also reveals a 'secret' butterfly image.
The back of the print is a postcard, developed alongside environmental non-profit NRDC, which participants are asked to mail into the Environmental Protection Agency (EPA), requesting stronger, more scientific pesticide regulation to protect pollinators and human health. Thousands of these brilliantly colored cards will soon be making their way to Administrator Gina McCarthy to support NRDC's lobbying efforts on this important issue.
Graphic design by Xiaoching Wang, known for her work on James Turrell's and Diana Thater's recent monographs.