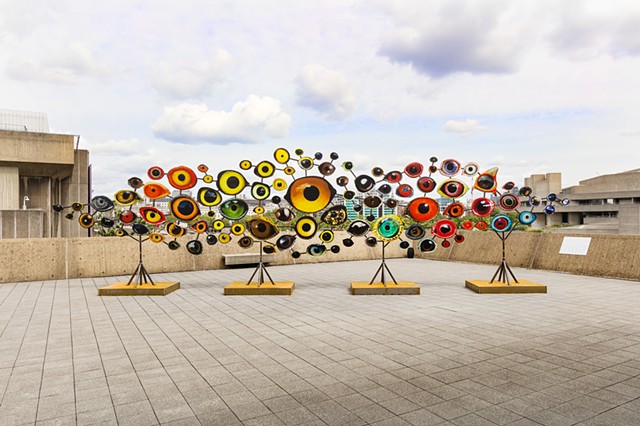 Birds Watching III
Printed reflective film on aluminum and corten steel frame
10 ft. x 40 ft. x 4 ft.
2023
Birds Watching III was commissioned for the Hayward Gallery's sculpture terrace, overlooking London's Waterloo Bridge, as part of Dear Earth: Art & Hope in a Time of Crisis which runs at the Southbank Centre from June 21st–Sept 3rd, 2023.
Created in collaboration with conservation scientists at the Zoological Society of London (ZSL), the work will travel to the London Zoo at the conclusion of the exhibition. Featured among the 100 eyes of birds threatened by climate change are new species representing birds from the UK's Birds of Conservation Concern alongside 27 globally endangered species in whose conservation programs ZSL takes part. Some of these include the critically endangered Javan Green Magpie and Blue-crowned Laughingthrush and the Extinct-in-the-Wild Soccoro Dove and Sihek.
More information on these birds can be found on the ZSL's page on the project, here.
Image Credit: Installation view of Dear Earth (21 Jun –⁠ 3 Sep 2023). Photo- Mark Blower. Courtesy of the Hayward Gallery.